Although the streets of Brazil's most populous city hum and throb with life, life isn't always easy for the pioneers of Sao Paulo's electronic music scene. Like ravers in urban metropoles across the world, it's a struggle for Sao Paulo's clubbers to find safe and affordable spaces to party in. Enter: Mamba Negra. A diverse collective led by musician and singer Laura Diaz, and co-founder Carol Schutzer, also known as DJ Cashu, Mamba Negra are at the forefront of Sao Paulo's vibrant, eclectic, anti-capitalist, and diverse dance music scene: throwing raucous illegal free parties in disused downtown buildings. But their ambitions are broader than just throwing parties: Mamba Negra have socio-political aims.
"Mamba Negra is a device for direct action," says Diaz. "It is the fruit of the need to access the means of production of the cultural machine. We want to be women, transgender, lesbian, gay, queer, and heterosexual. We want our work to be recognised. We want respect. That's all."
Like the snake from which Mamba Negra takes its name, the collective first uncoiled itself in 2012, when Diaz, who was involved in Sao Paulo's student activist scene, met Schutzer on the downtown free party circuit. They moved into a shared apartment in March 2013, and later that year, in May, threw a raucous joint birthday party. Climbing the stairs to their apartment the following afternoon post-sesh, a shivering and weary Diaz suddenly envisaged a black snake.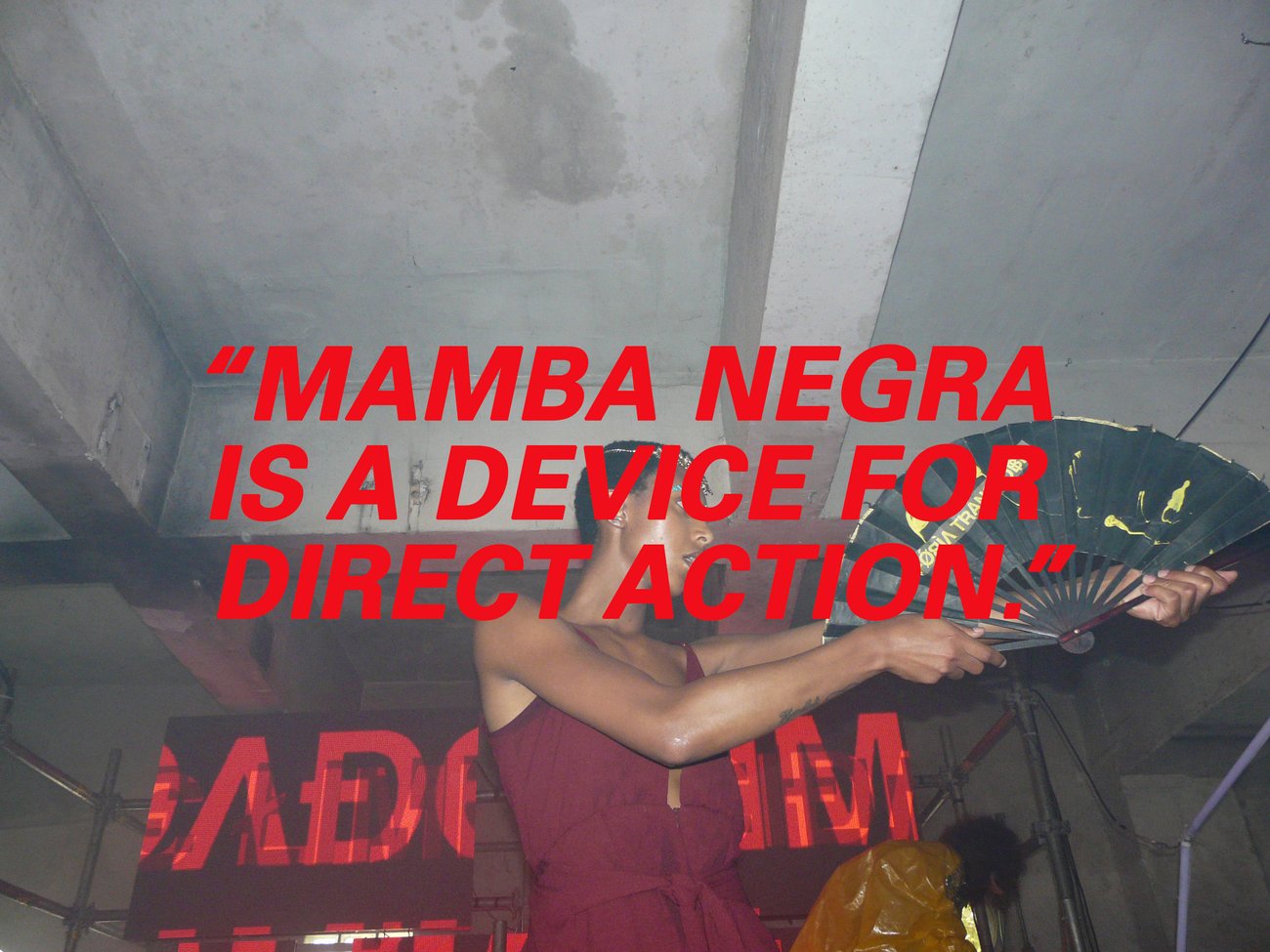 "That was it," she recalls. "Our power animal." Together, Schutzer and Diaz began creating flyers and shaping the identity of their event. Six years on, Mamba Negra has become a leading light of Sao Paulo's dance music scene. But it hasn't always been an easy ride.
Despite the growing number of producers who populate Brazil, and especially Sao Paulo's electronic scene, things aren't as simple for home-grown talent as it might be in party capitals like Berlin or Amsterdam. "It's really hard and expensive to import equipment and components," Diaz explains. Despite this, Brazil's electronic music scene thrubs and hums with life: from house to funk to new wave to post-punk, to acid, psy, trance, or EDM.
But Mamba Negra faces more than just practical struggles to survive. Like in capitals around the world, the wider context for electronic music lovers in Sao Paulo is often bleak. A city of extreme inequality, Sao Paulo is "a rich city where public space barely exists," explains Diaz. Mamba Negra challenges this by developing a free party scene outside the closed, insular community of the city's established clubs. They're claiming Sao Paulo streets, one rave at a time.
"We found empty and derelict buildings, usually factories, in the industrial neighbourhoods in Sao Paolo's downtown area (much of which had been declared bankrupt)," Diaz explains. It's a truly underground, emerging scene—but like many dance music scenes around the world, Mamba Negra isn't immune from the pressures of gentrification. From Shoreditch to Berlin, Amsterdam to Lisbon, promoters and party-goers are being pushed to the fringes of ever-more-expensive cities: and they're having to innovate for the rave to survive. "We don't agree with gentrification," Diaz tells me. "We believe Mamba Negra can act in a constructive way on social issues, to help the people and places abandoned by those in power."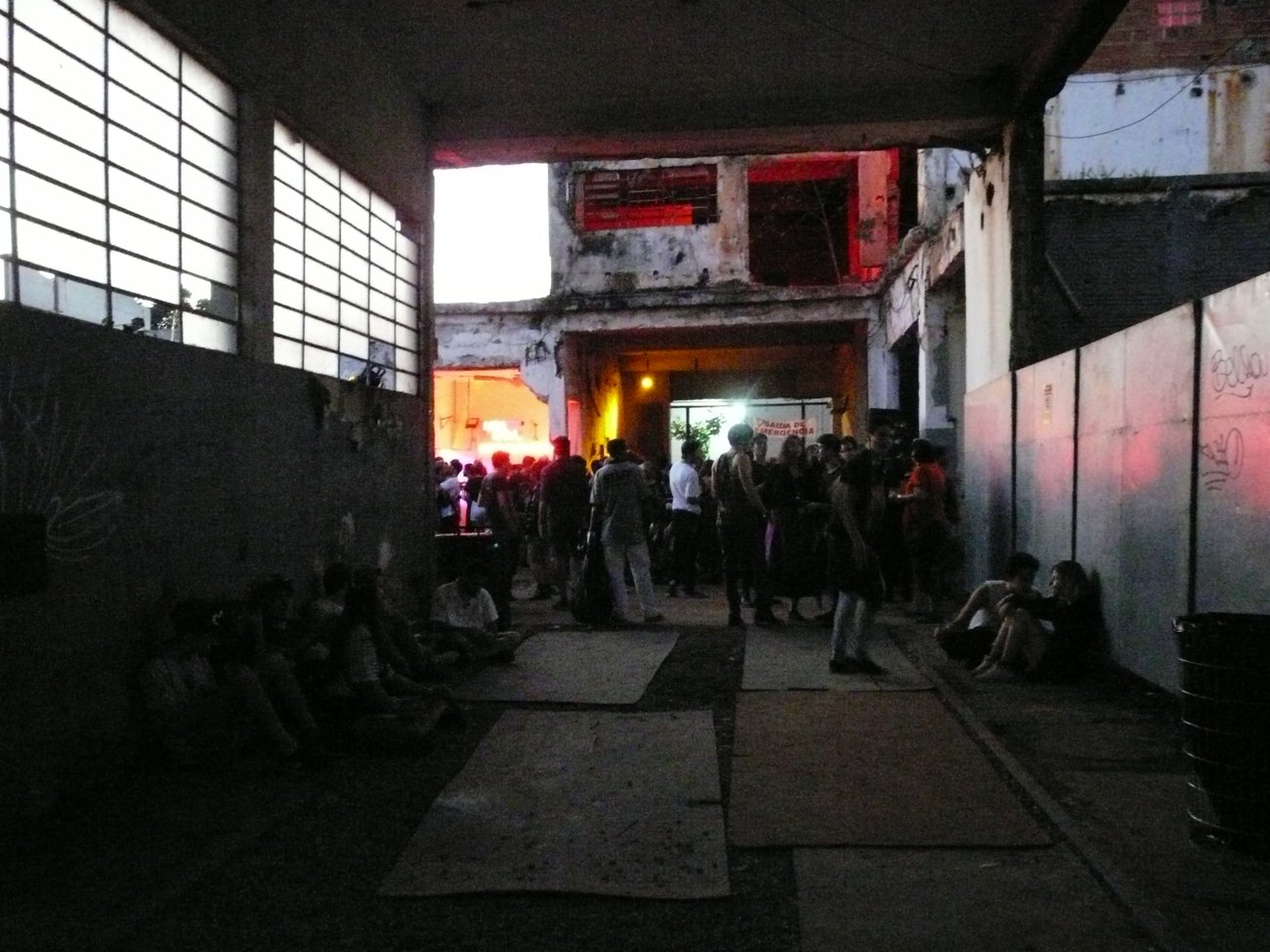 And Mamba Negra does more than just respond to social issues: it incorporates them into its musical DNA. Earlier this month, Sao Paulo declared a state of emergency after a week-long truckers strike that paralysed much local infrastructure. Mamba Negra's first ever release, the hypnotic, string-laden "Gasolina", surged back into popular consciousness. "We're proud to be deeply connected to the Brazilian zeitgeist," Diaz enthuses. Soon, the collective—which encompases acts such as Teto Preto and releases tracks on record label Mambarec—will release since "Bate Mais" [Beat More], which highlights Brazilian police brutality against the black community. It'll be followed by the first LP from Teto Preto, a significant milestone for the collective. "We feel like this album is important not only for us," Diaz explains, "but for the community. It gives us strength to find ways to record passionate artists."
Even as they create music and throw spontaneous, free-spirited parties in downtown Sao Paulo, Mamba Negra aren't immune to the violence and injustice of wider Brazilian culture. In March and April this year, two long-time friends of the collective—Marielle, and Matheusa—were found murdered in killings that Diaz characterise as state-sanctioned. To honor their lives, Mamba Negra decided to redouble their efforts. Now, Diaz and her collaborators work and night on the collective. "It's aggressive!" she laughs. "Like being in love." But it's also necessary, to honor their friends' memories—and help keep Sao Paolo's nascent electronic scene throbbing with life.
"After they died," Diaz explains, "we were really hurt and scared. But then we decided to act, and not live by fear. We decided to live, because we are alive. We just want to be able to continue working and stay alive, in this so-called democracy that we live in."
Written by Sirin Kale - follow her on Twitter