A quick search on Google for 'Belgrade Nightlife' reveals the city's illustrious reputation for alternative clubbing; article after article mythicize a 'city that never sleeps', with its floating river clubs and repurposed industrial spaces that transform into sweaty, smokey dance dungeons. The region's turbulent political history often colours the narrative, attributing the burgeoning nightlife culture as a reaction to an austere national backdrop. Their nightlife has, in a sense, been elevated to an artform.
However, Belgrade is no stranger to amplified cliches, especially considering the recent surge of interest surrounding Eastern Europe. As creatives in the city made clear to me, this exotification of the East is tiring. In a quest to find out what influences are currently at play in the city's eclectic music scene, I ventured into Belgrade to experience the community pushing it forward.
My weekend began in the 'pre-party' area Cetinjska. A former brewery, the carpark on Cetinjska now operates as a motley assortment of diverse bars and multimedia spaces catering to different palettes. It was a hot summer evening and people were loudly overflowing onto the streets; the mosaic of sounds from all the bars melting into one.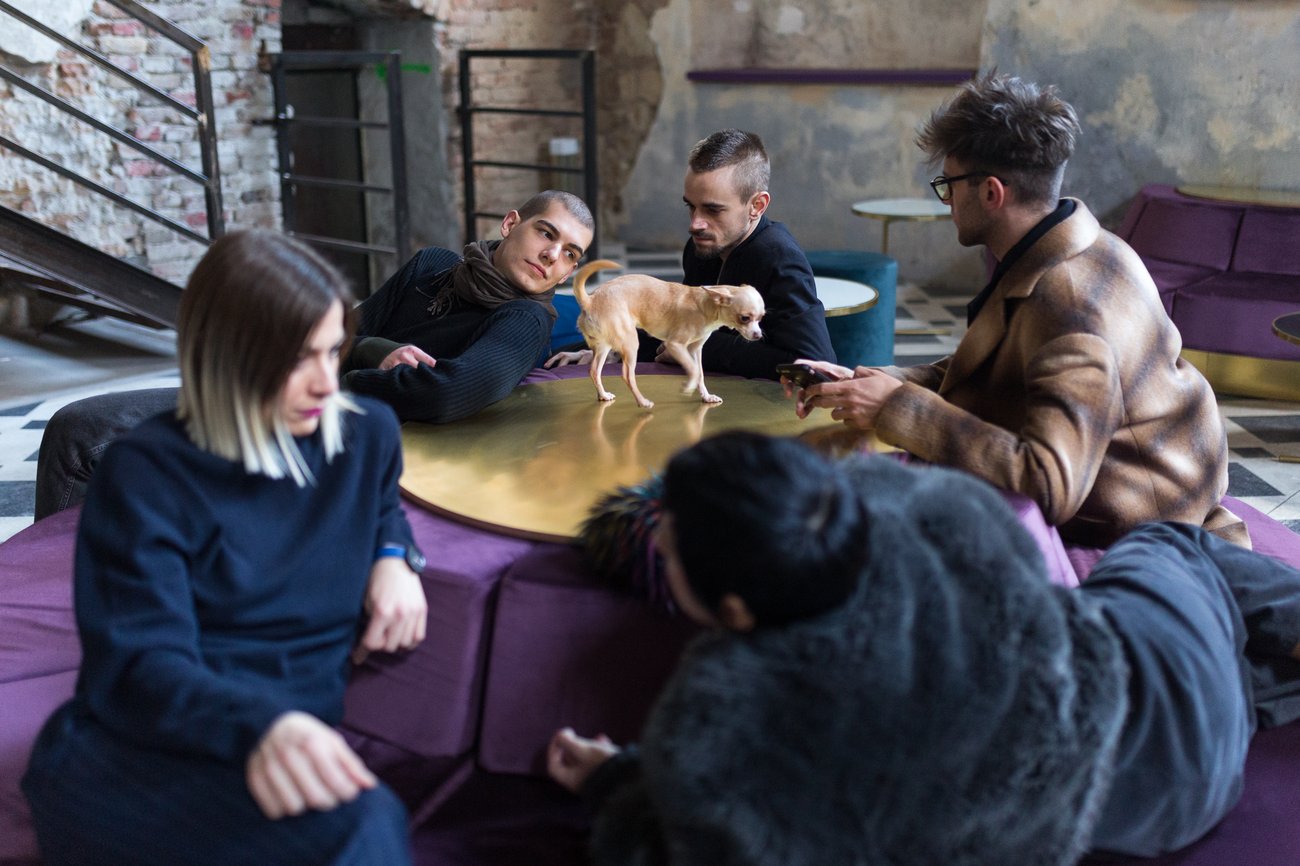 Image courtesy of Nemanja Knezevic
My guide was Dragana Dobrić, a core figure behind Belgrade's celebrated alternative nightclub, Drugstore. We met at Dim, a venue she recently opened alongside Nemanja and Ivana Rašović. Hidden down a dark, concrete alley with only a stark red carpet revealing its entrance, Dim is the newest example of the scene's propensity to remodel unlikely spaces into community-driven creative concepts.
Inside, Dim is as striking as quirky. The staircase descends into a large concrete prism and a huge mushroom-like pillar illuminated the room. Remnants of a previous multimedia exhibition prevailed in the bathroom, as a mystery voice echoed provocatively "hoće moj broj, hoće kurac hoće kurac" ("wants my number, wants dick, wants dick") between the toilet flushes.
An up-and-comer, Andria, was DJing a set of downtempo electronics. Dragana was chatty and inviting, her warm nature evidently a primary reason behind Dim's palpable community feel. She described how Dim is an extension of a previous venue Bivši; a relaxed meeting point for Belgrade's creatives. A place for experiments, where music genres liquify and reform. "We wanted cutting edge curatation, with experimental music that has an accent of the local scene." Dragana explains.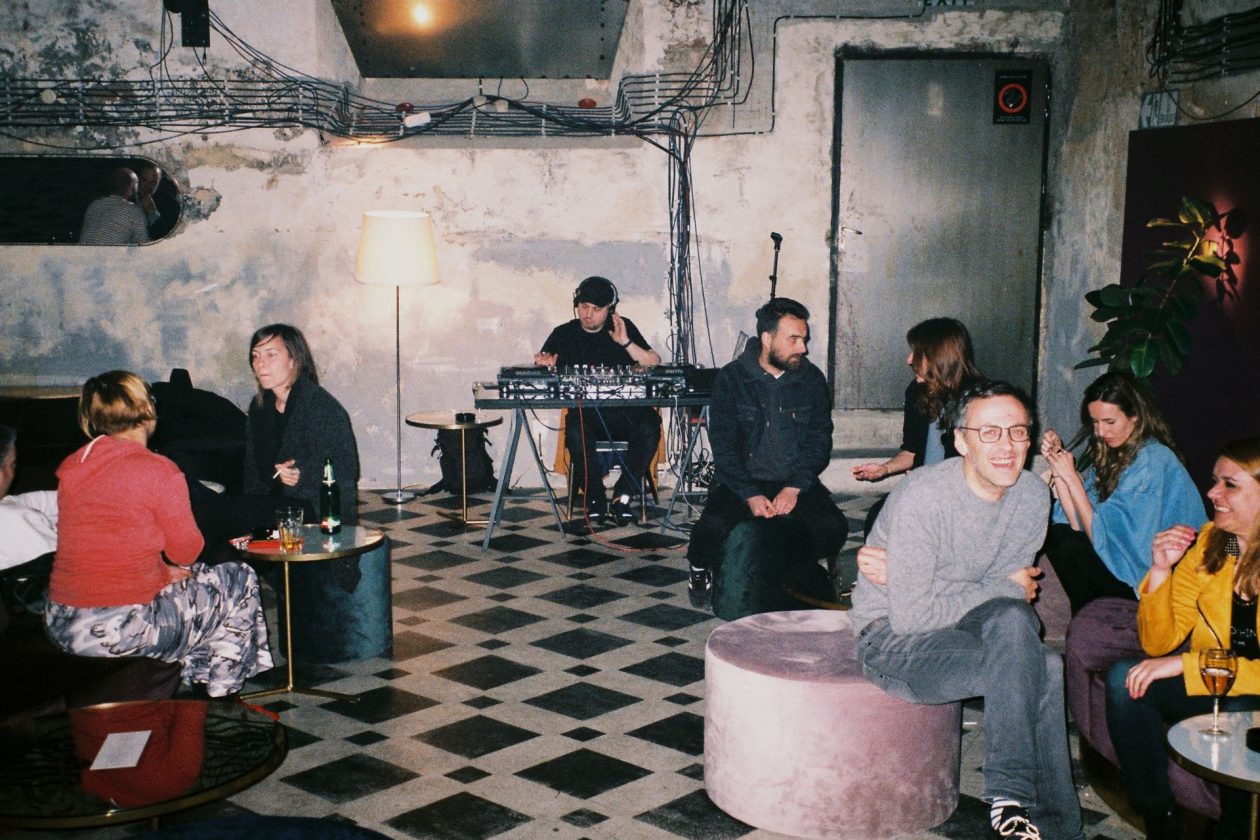 Image courtesy of Andrea Tešanović
Whereas Dim's focus hones in on the local, Drugstore's reputation extends internationally. VTSS, Tommy Four Seven, Luke Slater, Elena Colombi and Batu have all played there in recent months; drawn by the club's stature despite Drugstore not operating with occidental budgets. Local legend turned international touring DJ Tijana T has been presiding over a series of Drugstore all-nighters called Voyage to Belgrade, inviting her DJ friends to experience "the real dirty party". That night, Swedish artist DJ Seinfeld was booked to play.
Tijana believes the sincerity clubs like Drugstore and 20/44 naturally possess make them so appealing, and respects their tenacity in building the scene up completely on their own. "If you're part of this underground scene, you still do it mostly for the passion," she reveals. "Internationally this whole scene has become much more entertainment and business than it is about community and culture." For Tijana, Belgrade still has this "feeling of community and culture."
For Dragana, the mission for Drugstore was simple: "We just wanted to create a safe space for everyone to come. It's really nice to have a place like that, where you can show people there's nothing wrong with being different." She credits the amicable atmosphere to their aversion to set agendas or over-politicize, and always keep enjoyment at the forefront. "Let's have fun, and while we have fun, let's take care of one another."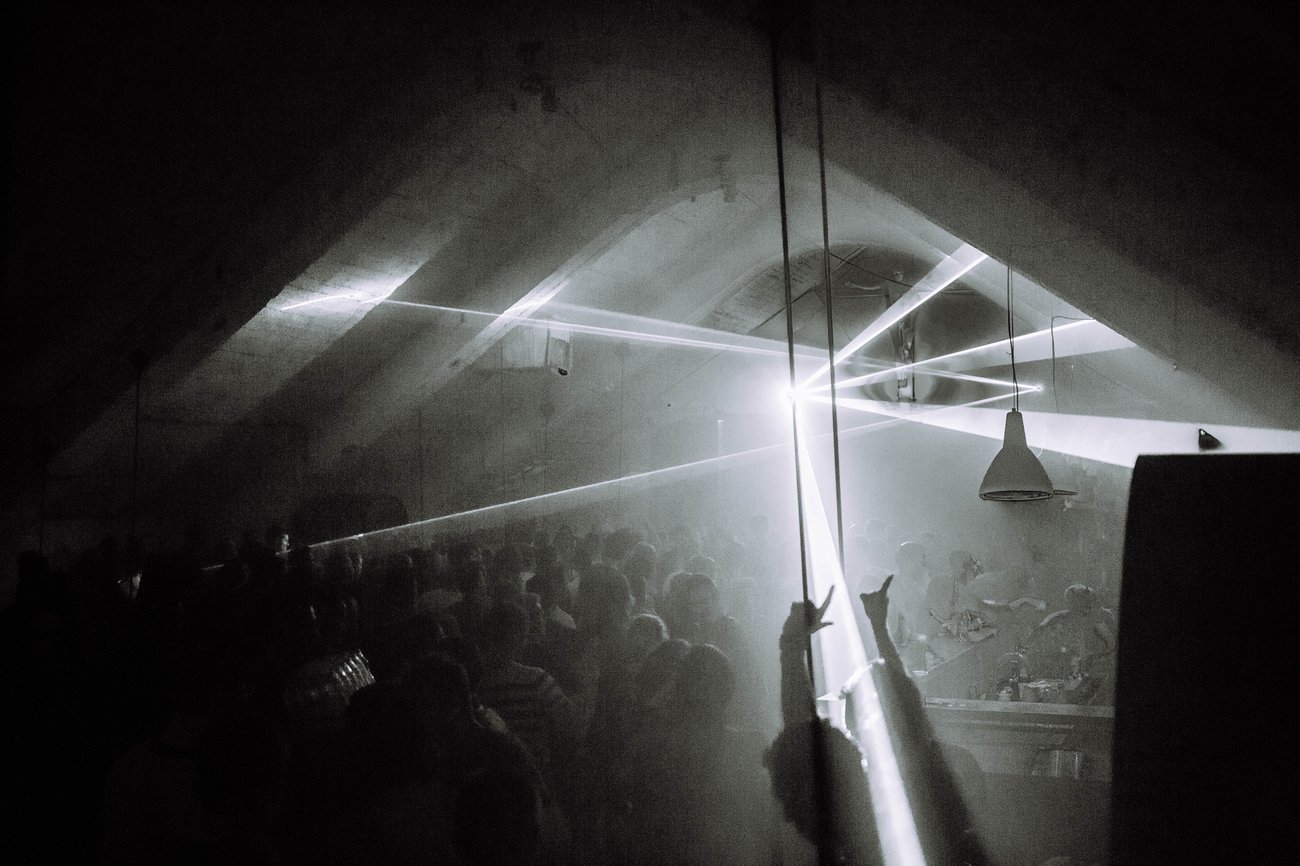 Image courtesy of Stefan Danilovic
Dim's venue manager, Andrea Tešanović, told me how although Tijana's party was great, there are other smaller, exciting things happening, with Stevie Whisper at the forefront of this. Real name Stefan Unkovic, Stevie Whisper has been involved in various facets of Belgrade's music scene since the late '90s. He got his start in Belgrade's hardcore punk scene, leading to him becoming a local promoter. As music trends changed, Stevie caught the wave of lo-fi, indie pop and alongside a friend, brought big acts like Mac DeMarco and Ariel Pink to Belgrade. Their operation expanded to radio, zines and exhibitions, though for Stefan, it was never his plan to make a career out of promoting. "It made its impact on the scene here because nobody else did it," he tells me.
After turning to DJing and linking up with the Mystic Stylez crew - many of whom he'd first met in the hardcore scene - Stefan co-established Yes, a party-turned-record label highlighting homegrown artists. I caught up with Stefan on a sweltering day outside Zaokret in Cetinjska, and was surprised to hear about the waves of genres that had previously dominated the city. With Belgrade often considered a techno city, Stefan informs me the majority of DJs and promoters in Belgrade's current club scene didn't come from this background. "They pretty much grew up listening to punk, indie rock, hip-hop stuff like that. Not that many people grew up listening to just trance or techno."
The scene is sonically diverse and evolving, thanks large in part to artists like Stefan - though this wasn't always the case. Although the country had a robust arts and cultural scene prior to the '90s, the ramifications of the war saw the creative industries struggle to survive amidst endless political upheaval. Radio B92 and the Industrija nightclub were notable sanctuaries amidst this chaos.
Festivals like Novi Sad's Exit emerged as a response to this at the turn of the 21st century, combining party culture with politics in protest against the corrupt government. This era was momentarily successful, though the rising popularity of large-scale events and hype surrounding major acts finally entering the city had a negative effect, pushing local acts to the background. With the commercialization of the music landscape and the ensuing financial crisis, the underground scene flatlined.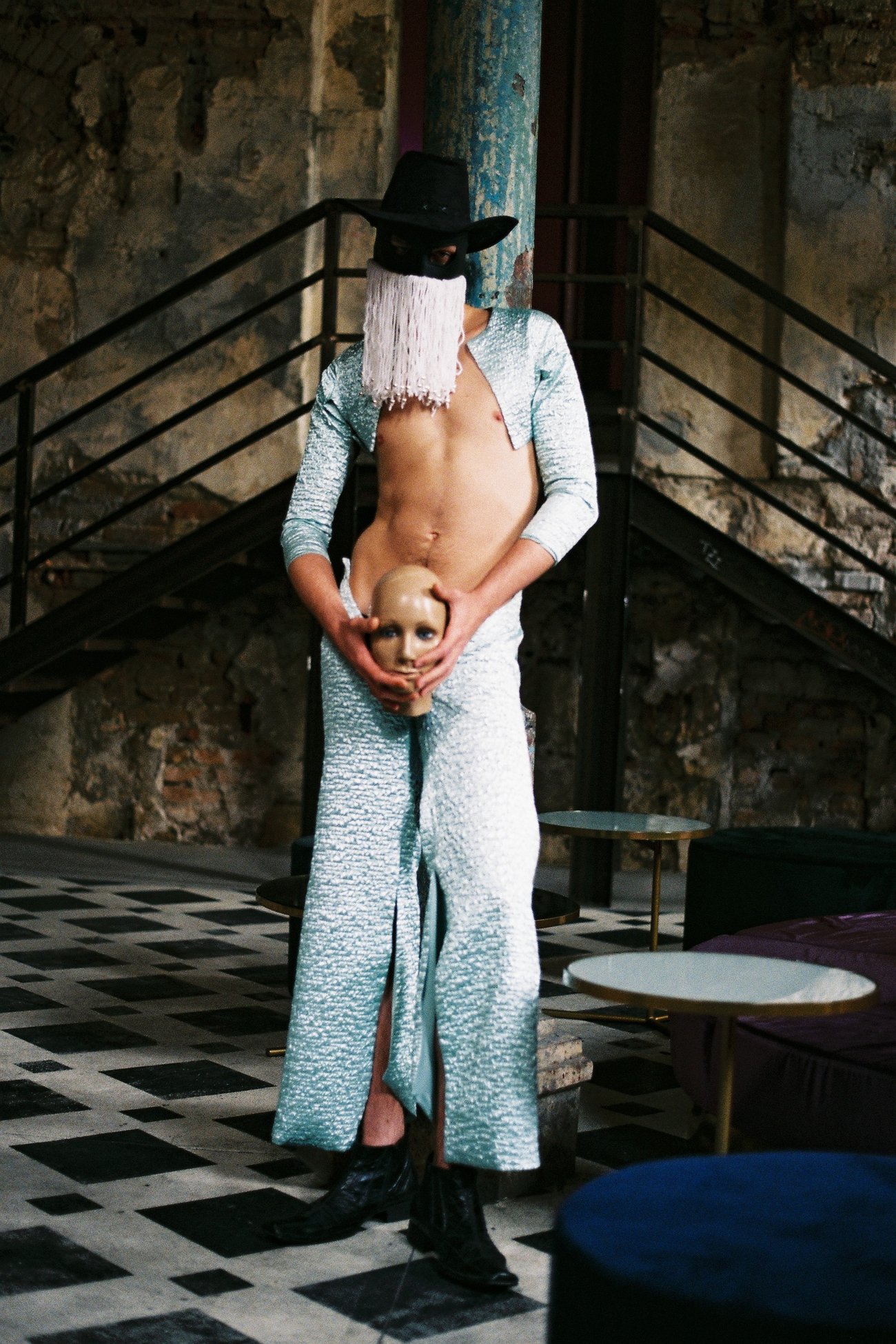 Image courtesy of Andrea Tesanovic
However, with time, local community-minded operations began to emerge. The only issue being a lack of interest from the new generation of Belgrade youth according to Johana Bogicevic, one half of DJ duo Banda Panda. "I remember thinking where are those kids, what's going on? But now the generation who are in their twenties are coming up; Andria or Matej Rusmir, who are both young."
This is partly why Johana decided to throw a series of female-led parties 'F-Society' at 20/44 last year. It was her chance to give something back and highlight young female talent. It worked. Many aspiring DJs who played that night have gone on to hold down regular gigs across Belgrade.
The diversity of sounds growing out of Belgrade right now are reflected in the work Stefan is doing with Yes. Founded with fellow DJ Vitanov to document their local scene, the label is becoming a reference point for the city's sonic identity. With few native producers, he hopes the label will have a chain reaction. "I can see that when we did this, it resonated. People started thinking about releasing music, so I'm hoping that it's gonna start something."
The Drugstore team have joined forces with prominent Belgrade studio Digimedia and will soon be launching a music studio to provide a space for young artists to work on their craft, as well as hosting workshops with local and international musicians to provide an opportunity for young people to move their work from the bedroom to the stage. "Personally I believe now is the time to develop more, which is what I want to do with the music studio," Dragana tells me. "I know that as a club, we would like to give more space to the younger generations,find them and take them out of their bedrooms."
There's a strong DIY mentality behind much of Belgrade's music scene. "Either you do it by yourself or no one is going to do it," is Johana's summation. In contrast to how the arts are treated in London or Berlin, the community in Belgrade receives little to no governmental support and the local initiative-run underground bear the brunt of this.
I wondered whether those in Belgrade found they had even more odds stacked against them. Visa difficulties make it harder to connect with one of the biggest markets such as the UK, whilst Serbia is still plagued by a host of political, socio-economic and corruption issues.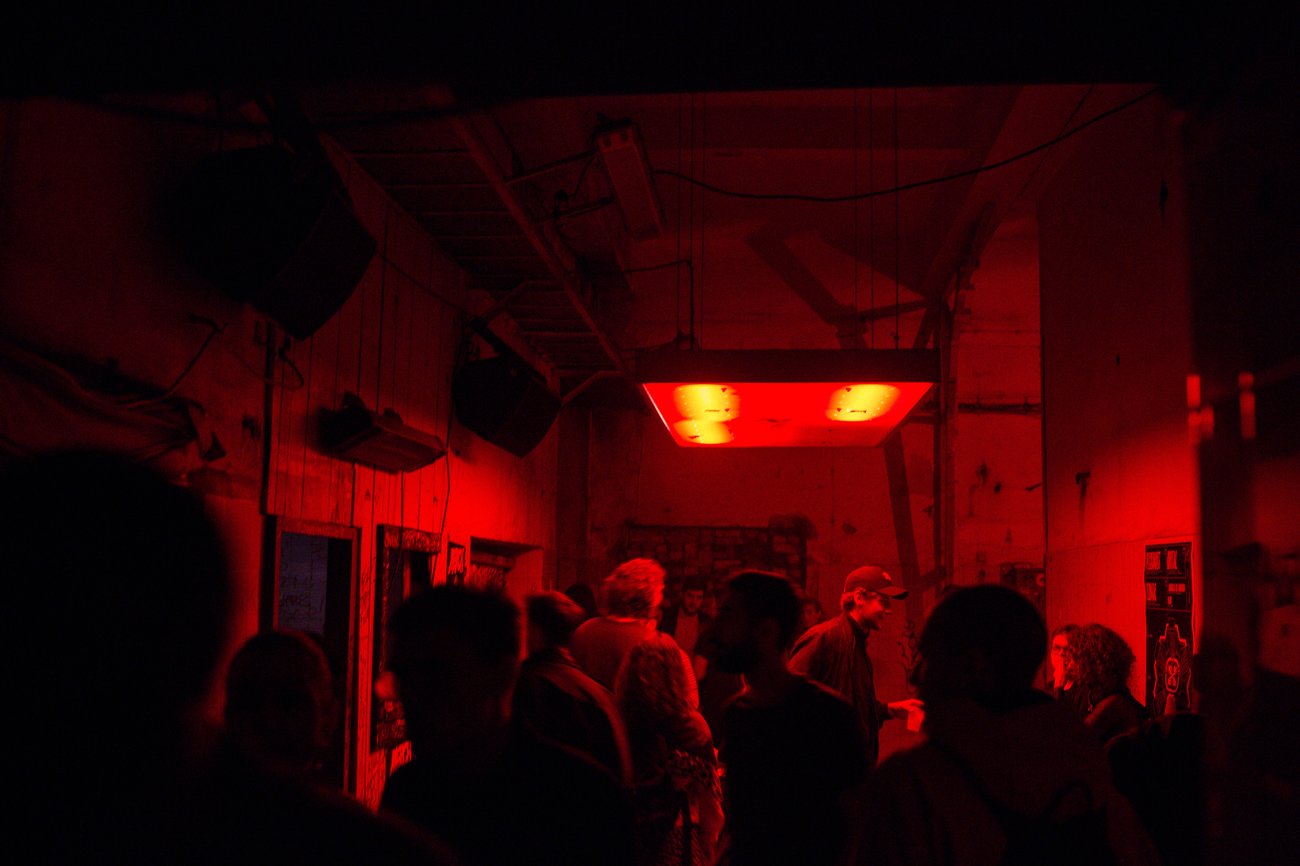 Image courtesy of Stefan Danilovic
When asked whether they feel this is an issue, the consensus is mixed. Some feel it is an uphill battle, usually related to the lack of money available to make a professional career of music as well as the oft-referred "situation here." Others suggest there are also positive forces at play, how easy it is to work your way up in a small scene and the meaningful connections fostered within a tight-knit community.
Like other cities, Belgrade is also battling top-down gentrification. "They are cleaning the riverside because of the Belgrade Waterfront so they are changing the shape of the city which will affect Belgrade and how it is right now," Johana explained, who feels this gentrification has led to galleries and cultural centres being transformed into luxury areas. This also poses a threat to Cetinjska's burgeoning venues. "It could be shut down at any moment," Johana continues, "and how that will affect the scene is something that you can't predict."
However this isn't something that overly concerns Dragana, who believes the communities fostered can't be so easily destroyed. "I think once you have a good concept you can easily move it and continue the work someplace else. We do what we can with the time we have. It's either that or you don't do it at all."
Uncertainty may be rife, but Serbians have a 'get on with it' mentality, and for those working in underground music, it's expressed in their unwavering focus on building and maintaining a solid foundation. "There's a certain level of dedication, enthusiasm and drive that I think is not that hard to recognize when you get here," says Stefan. "It's super sincere and I think it has a certain quality that maybe you don't expect."
Written by Tanya Akinola
Stevie Whisper's New Sounds of Belgrade
Stevie Whisper has selected a diverse handful of tracks that have spread the word about Belgrade's local scene across borders.
"These tracks were on heavy rotation in mixes and clubs around the globe. Some were released on big outfits like Brainfeeder, some got really high reviews and some just had a very unique touch to them."
A part of Contemporary Scenes, a BR series uncovering underground collectives, artists and subcultures from across the world.