On the night of February 1st, Gabber Modus Operandi took to the Berghain stage with a demented energy. Even in the context of CTM, Berlin's challenging experimental music festival, the performance by this Indonesian duo stood out. DJ Kasimyn ratcheted the beats up to 200 BPM, his tides of bass pressure occasionally parting to reveal sinuous melodies. In front of him, Ican Harem screamed, stripped and ricocheted across the stage like a man possessed. Just as the crowd were adjusting to the intensity, Harem vomited spectacularly.
It looked pure punk, but Harem hadn't planned to throw up. He was just overwhelmed. It was only the sixth Gabber Modus Operandi show and their biggest by far. "I was nervous as fuck," he recalls a few weeks later, "just shaking. I'd never seen that many people and lights in one spot." Though covered in vomit he knew he had to keep going. To stop would be too embarrassing.
Harem's beginnings were about as far removed from vomiting on the Berghain stage as it's possible to imagine. He spent his teenage years as a student at a strict Islamic boarding school on Sumatra, an island he calls "one of the roughest places in Indonesia". His first act of rebellion, at 14, was buying Guns N' Roses' first album Appetite For Destruction on cassette. It included a poster depicting the shaggy-haired bandmates as skulls fixed to a gnarly cross.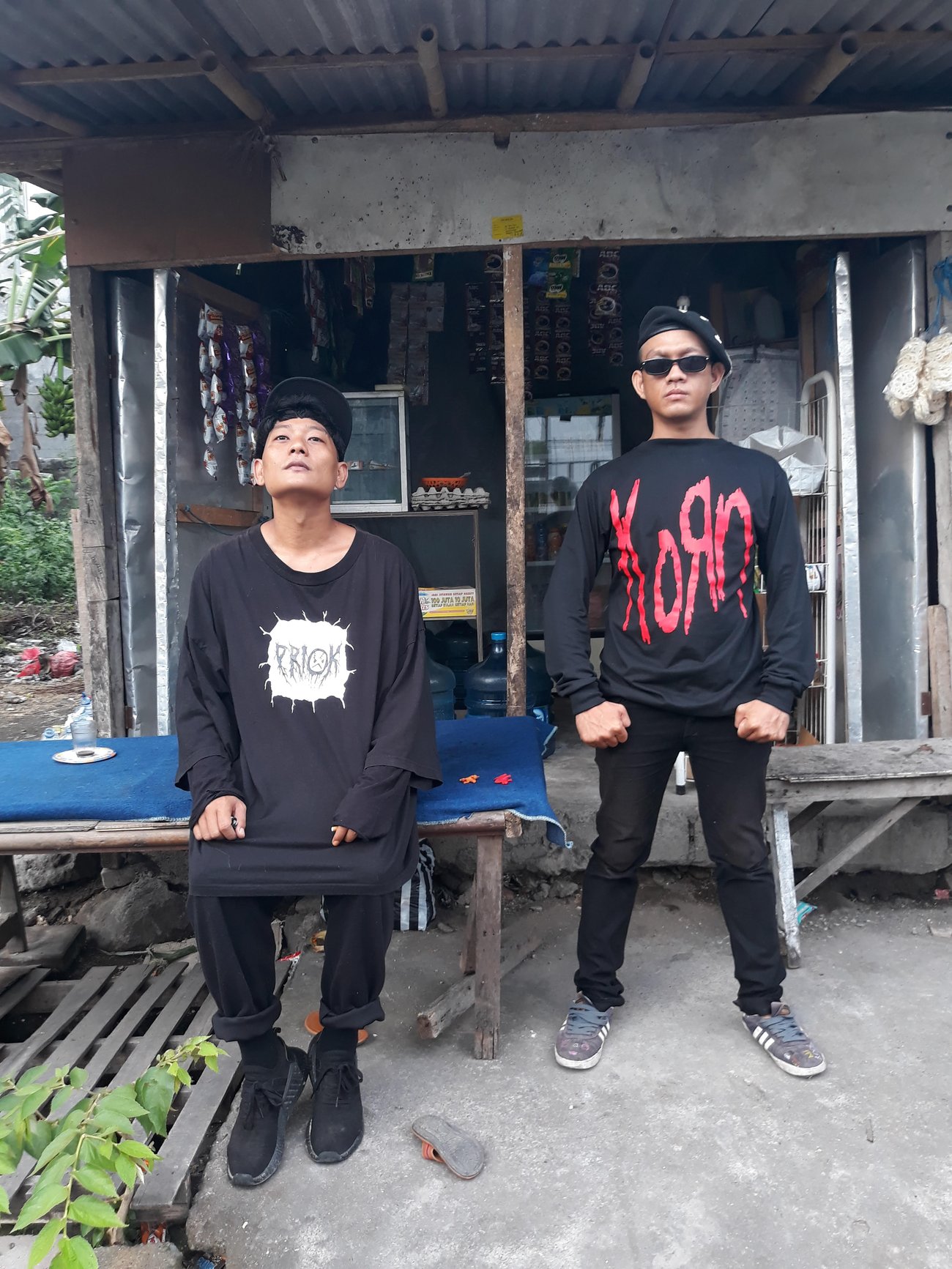 This satan-baiting American band was especially transgressive in a place like Indonesia, a country with the world's largest Muslim population, where Harem remembers being taught "the West is our enemy and white people are demons". He stuck the poster up in his cupboard, where it was promptly discovered in an inspection. The punishment was severe: Harem's teacher beat him, clumsily shaved his head, and finally tied him to a tree outside the mosque. When leaving Friday prayers, his classmates saw Harem there, hair looking like "it had been eaten by rats", with a sign around his neck warning them to stay away from this bad influence.
His classmates treated him differently after that. "I just started accepting myself as a weirdo," he shrugs. It took a sympathetic teacher to show him it was okay to be different. This teacher also had a secret predilection for metal music, and introduced Harem to Slipknot and Marilyn Manson. A teenage Harem couldn't understand the lyrics, but was aware these musicians were weirdos like him. "Since I studied strict Islam I understood the expression of extremes," he reflects. "I love extremes; what's more extreme than Slipknot?"
This teacher's tastes were not unusual in Indonesia, a country with a special love for genres like punk, metal and experimental noise. This passion is partly born from the chaos of daily life in the world's fourth most-populous country, with around 264 million people and over 700 spoken languages. Locals had to repress anger and dissent through over a century of Dutch colonial control and then two authoritarian leaders. Sometimes their very land seems out to kill them, with volcanoes, tsunamis and venomous snakes. If their artistic expression now comes out as the wildest noise, perhaps it's not surprising.
While Harem is now part of this experimental scene, he can find it all a little too serious. His early projects were differentiated by their sense of humour. As a student in Yogyakarta he started Black Metal Karaoke, a group that plays metal using the polyphonic tones of an old Nokia. His bandmates scream over the top like a demonic boyband, their irreverence provoking insults and threats from local metalheads. "I'm the blasphemer of the metal scene," Harem says, with more than a hint of pride. Later he started "experimental doom" group Liwoth with scene regular Krisna Widiathama. In their performances, Harem lampoons Islamic practice by wearing a veil and praying onstage.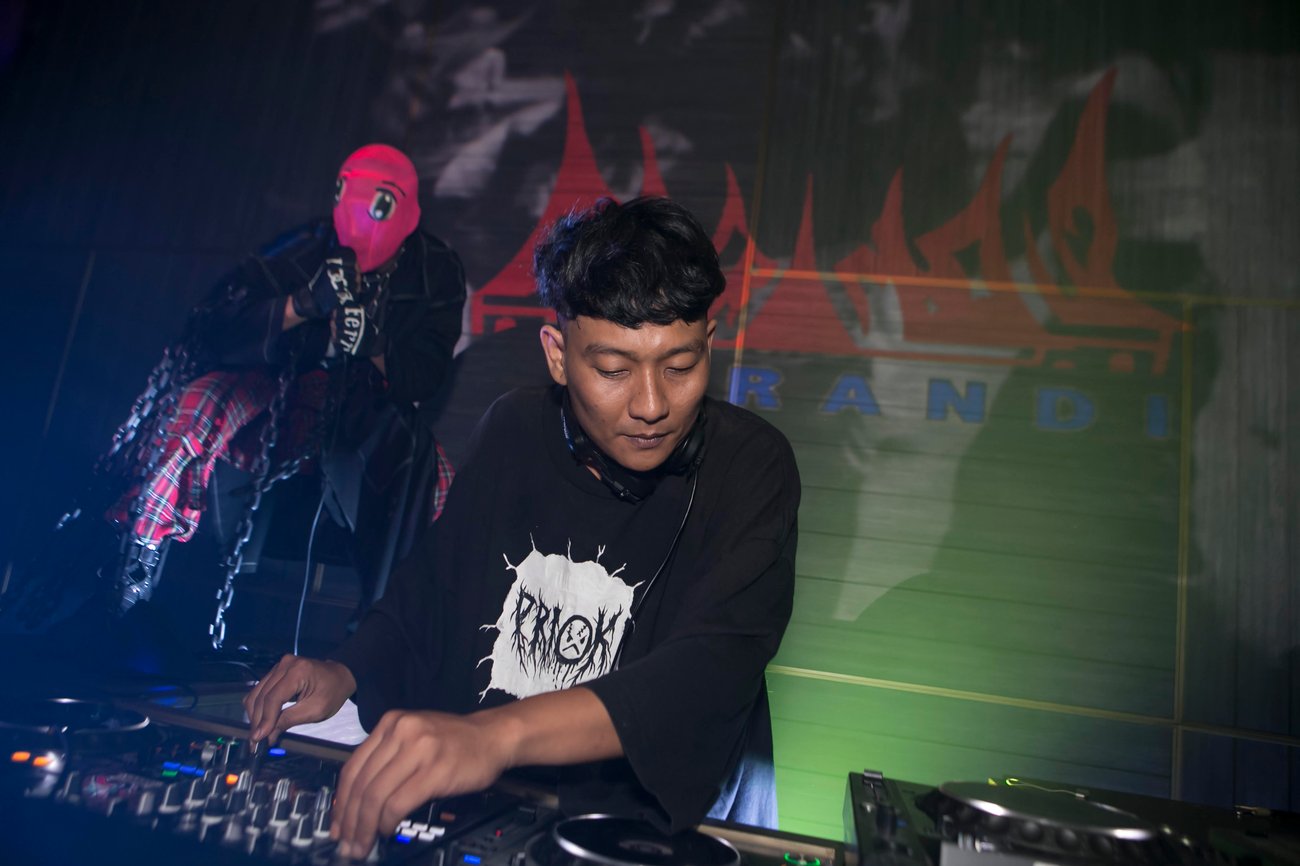 Harem moved to Bali after his studies finished, which is where he met Kasimyn. They immediately clicked. Kasimyn had spent his childhood in Sumatra and was also kind of an outcast, socially-excluded in his youth because of his Chinese heritage. Kasimyn had grown up on the same music as Harem, and was working full-time as a DJ in Bali playing weddings and lounges. His professional playlists are conservative at best, but Kasimyn can tear up an open-minded dancefloor when given the chance. He proved this with his hurricane of a closing set at this year's CTM, where he kept dancers going to the end, even after 10 days of music.
Kasimyn and Harem originally bonded over a shared fascination with jathilan, a Javan ritual in which dancers enter an altered state under the intoxicating effects of incense, flowers and repetitive music. They are sometimes possessed by animal or ancestor spirits, which can be a powerful or frightening experience. Kasimyn observed parallels between jathilan and experimental music. "In jathilan there's a lot of tension in the body and raw, primal anger," he says. "I love punk and the mosh pit but jathilan goes beyond that. And these guys' parties are better than anyone's. Sometimes they're just behind somebody's house with a speaker. There's no guestlist, maybe nobody is wearing shoes. It's pure rave."
As fast internet connection has spread across Indonesia, videos of these rituals go viral on social media. Gabber Modus Operandi curate a curiously post-modern collection on their Instagram images of a hybridised Indonesia, where modern technology meets ancient tradition. On one video they uploaded, the pair spliced together footage of jathilan rituals to their own apocalyptic music. The retrofitted soundtrack is eerily appropriate, bringing out an edge of malevolence in the dance.
Their music itself is also a collision of cultures. Pounding rhythms at the speed of gabber—or indeed Indonesian gamelan music, which is particularly fast and chaotic in Bali—race under melodies that cast rave dynamics in the quavering scales of traditional Indonesian music. Kasimyn produces the music while Harem performs onstage with a dense array of references; one minute emulating a Russian performance artist by chaining himself up like a dog, the next mimicking the breakneck patter of a village snake oil-salesman.
There is not yet a big audience for Kasimyn and Harem's shows in Bali, where most nightclubs pump out tech-house for the Australian backpacker crowd. The best Gabber Modus Operandi can hope from a home gig is 150-odd people assembled in a punk bar. Since playing in Berlin they've been attracting more interest from Indonesian bookers - an irony not lost on the pair, given their drive to turn Indonesian electronic music's gaze away from the west. Slowly an interest in eclectic sounds is growing - the day we spoke, Kasimyn was playing support for rising Malaysian-Chinese producer Tzusing in Bali.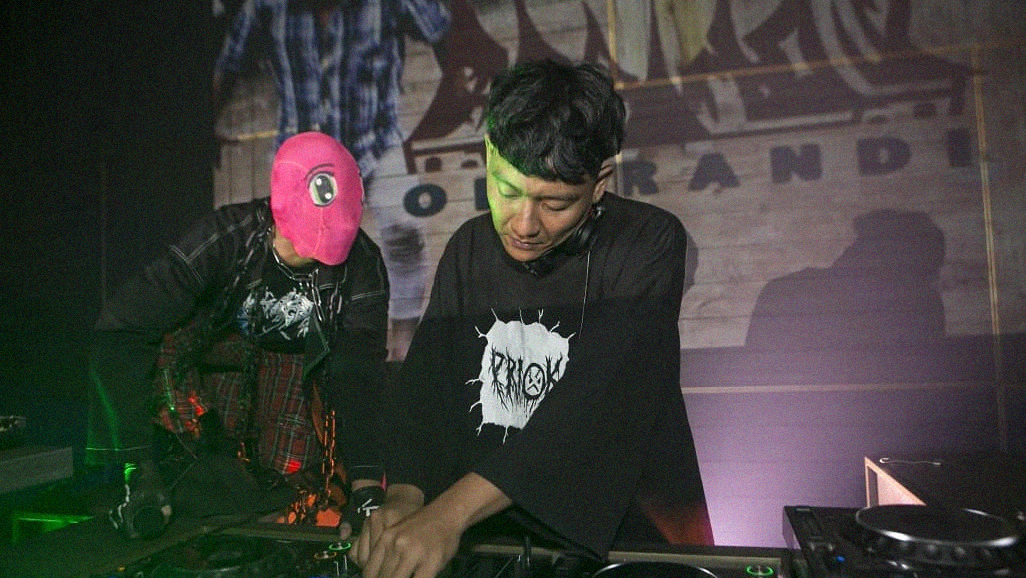 They point out it is only recently there is fertile soil for a project like theirs in Indonesia. While experimental music has a fine pedigree in Indonesia it is largely western-facing, ignoring the rich history and variety of local music. Kasimyn puts this down to the country's political history. "We were colonised by the Dutch and now we fetishize white people," he offers bluntly.
A seismic shift happened with the arrival of Senyawa, a duo from Java who garnered significant international attention with their gritty experimental sound that uses only Indonesian instruments and vocal techniques. "Senyawa opened the gates to thinking that it's ok to be Indonesian," says Kasimyn. "Most people think we're either innocents or an exotic sound library to be sampled and used in a Café Del Mar compilation. But Senyawa showed there is a darkness here in Asia." The pair call the new embracing of Indonesian identity in experimental music the "post-Senyawa effect".
Through their own reinterpretations of local rituals, iconography and musical scales, Gabber Modus Operandi stake out an identity as musicians without limits. They are citizens of Indonesia, of the world, and of the internet. Harem expresses this like he's calling out his manifesto from a podium: "We are not fucking polite. We are not exotic. We are not playing world music."
Written by Tom Faber
A part of Contemporary Scenes, a BR series uncovering underground collectives, artists and subcultures from across the world